Termites Are All We Do We eliminate termites the first time around
Homeowners are often shocked when they find that the price to treat their home for termites is all over the board. There are many reasons for this, however when you talk face to face with someone that has the knowledge of treating tens of thousands of homes, expertise speaks for itself. Many pest control companies push cheaper products or use methods that will not solve their customers' termite problems in order to keep the costs lower. These type of termite treatments are rarely successful and just leave the customer feeling frustrated by the ongoing termite infestation.
Arizona Termite Specialists is not your average termite control company. Our team is highly trained — we're experienced termite professionals with over 20 years of experience serving Arizona homeowners. At ATS we strive to provide our customers with unmatched service at a fair price, utilizing only the best products on the market, including products that contain Fipronil, like Termidor® and Fuse. Fiprinol is one of the best chemical termiticides on the market.
Get started today — reach out to our team at (602) 900-9799 for termite inspection and control services. We provide service throughout Phoenix, Scottsdale, Cave Creek, Gilbert, Mesa, and Peoria.

ATS is a family owned and locally operated company founded by Jeremy Youngquist and Brad Deuser.
Jeremy Youngquist
Jeremy Youngquist has been in the termite industry for 20 years and has inspected over 10,000 homes. He has extensive training with some of the top industry officials in the country. He has represented Arizona and traveled with BASF, the manufacturer of Termidor. BASF used his feedback on proper treatment methods and application for Arizona termites. Jeremy's expertise in the termite field, and the thousands of homes he has protected, sets ATS apart from other termite control outfits.
Brad Deuser
Brad Deuser has an MBA from Arizona State University School of Business and several years of experience in the corporate world of both finance and marketing. Brad's primary function is running the day-to-day business operations but he is also licensed to inspect and treat for termites and can be seen assisting Jeremy in the treatment of your home.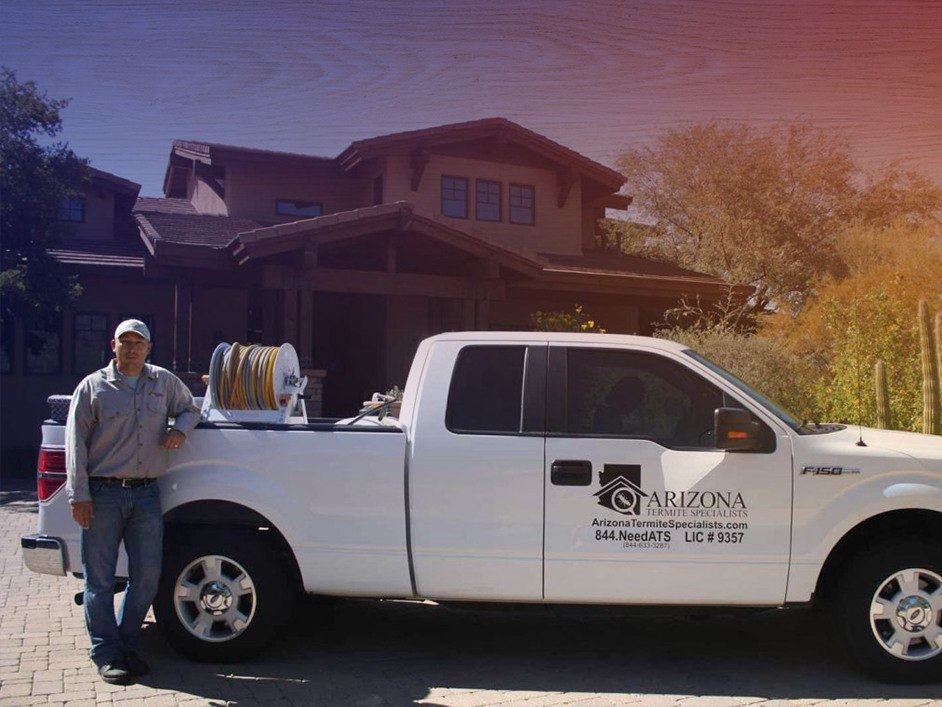 Our Phoenix termite techs are proud to provide expert termite control and inspections throughout Scottsdale, Glendale, Cave Creek, Gilbert, Mesa, and Peoria. Call (602) 900-9799 to schedule a free estimate or a service.
Termite Control Is All We Do

We are trained, licensed & insured extermination professionals who deal exclusively with termite control and inspection.

Over 20 Years of Experience

For over two decades, our techs have helped countless Phoenix area residents rid their homes of pesky termites.

Advanced Treatment Solutions

Unlike general pest control companies, we use the most effective treatment solutions on the market to eliminate your termites problems for good.