Termites Are All We Do We eliminate termites the first time around
Glendale Termite Control
Expert Termite Treatment Services in Glendale & the Surrounding AReas
Welcome to Arizona Termite Specialists, your premier source for professional termite treatment in Glendale, AZ! We are a family owned and operated business that has been providing top-notch termite treatment services for over 20 years. Our experienced team of exterminators is dedicated to providing you with the best service possible. We understand that termites can be a huge nuisance and we are here to help you get rid of them quickly and efficiently.
Our team of professionals is highly trained and certified in termite treatment and we use only the highest quality products and equipment. We take great pride in our work and we guarantee that you will be satisfied with the results. We also offer a satisfaction guarantee on all of our services, so you can rest assured that your investment is protected.
Our Termite Control Services
At Arizona Termite Specialists, we specialize in both preventative and reactive termite treatment services. We offer a variety of treatments that are tailored to your specific needs. Our treatments include liquid and bait treatments, fumigation, and heat treatments. We also offer preventative services such as wood replacement and structural repairs, as well as soil treatments that can help to prevent future infestations.
Termite Inspections: Our skilled technicians perform thorough termite inspections to identify any existing infestations or potential risks. By utilizing advanced tools and techniques, we pinpoint the presence of termites, even in hard-to-reach areas.
Customized Treatment Plans: Once we assess the extent of the termite issue, we develop personalized treatment plans. Our solutions are designed to effectively eliminate termites while considering the safety of your family, pets, and the environment.
Termite Prevention: Prevention is key to avoiding costly termite damage. Our experts will work with you to implement proactive measures that reduce the risk of future infestations, including soil treatments and barrier installations.
Localized Treatments: In cases of localized infestations, we employ targeted treatments to minimize the impact on your property and surrounding environment.
In conclusion, Arizona Termite Specialists stands as the leading provider of termite control services in Glendale, AZ. Our commitment to effective and sustainable solutions, combined with our experienced team, sets us apart in the industry. Don't let termites compromise the integrity of your property.
---
If you are in need of termite treatment services in Glendale, AZ, contact Arizona Termite Specialists at (602) 900-9799 today. We look forward to helping you get rid of those pesky termites!
How Often Should I Schedule Termite Inspections?
Regular termite inspections are crucial to catching infestations early. We recommend scheduling an inspection at least once a year. If you live in an area prone to termites, more frequent inspections may be necessary.
Signs You Need a Termite Inspection
While annual inspections are a great starting point, it's essential to be vigilant and aware of signs that may indicate a termite infestation between scheduled inspections. These signs include:
Mud tubes: These pencil-sized tubes are often found along walls, foundations, and other surfaces and are used by termites for travel.
Discarded wings: Swarmers shed their wings after mating, leaving behind piles of wings near windowsills, doorways, or other entry points.
Hollow-sounding wood: Termites feed on wood from the inside out, leaving a hollow sound when you tap on an infested wooden structure.
Frass: Termite droppings, also known as frass, resemble tiny pellets and can accumulate near infested areas.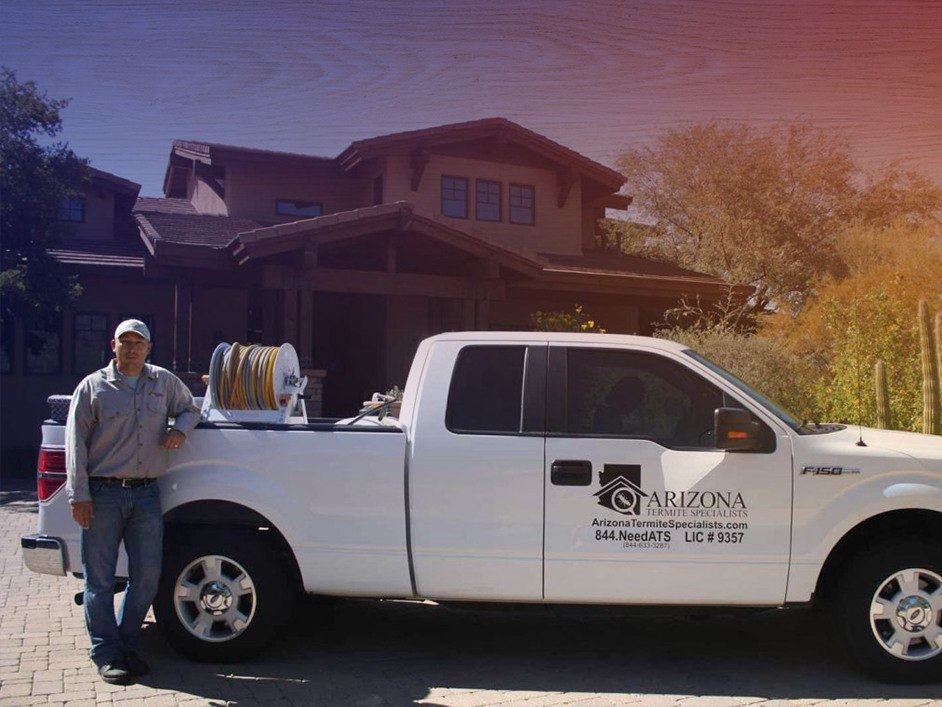 Our Phoenix termite techs are proud to provide expert termite control and inspections throughout Scottsdale, Glendale, Cave Creek, Gilbert, Mesa, and Peoria. Call (602) 900-9799 to schedule a free estimate or a service.
Termite Control Is All We Do

We are trained, licensed & insured extermination professionals who deal exclusively with termite control and inspection.

Over 20 Years of Experience

For over two decades, our techs have helped countless Phoenix area residents rid their homes of pesky termites.

Advanced Treatment Solutions

Unlike general pest control companies, we use the most effective treatment solutions on the market to eliminate your termites problems for good.