Termites Are All We Do We eliminate termites the first time around
Paradise Valley Termite Treatments
A termite infestation can wreak severe havoc on your home, causing extensive and costly damage. These pests feast on wood, gradually compromising the structural stability of your property. Over time, untreated termite infestations can result in weakening floors, crumbling walls, and even deteriorating roofs. The potential for such extensive damage serves as a stark reminder of the critical importance of professional termite services for the protection of your home.
At Arizona Termite Specialists, we offer fast and reliable termite treatment services in Paradise Valley and the surrounding areas. From initial inspection to in-ground treatment, and continual protection solutions, our team has your property covered. We offer emergency and same-day service for your convenience and peace of mind.
Call us at (602) 900-9799 to schedule an appointment.
What Is Included in a Termite Inspection?
At Arizona Termite Specialists, we offer comprehensive termite inspections to protect your property from the devastating effects of a termite infestation. Our trained professionals meticulously examine every aspect of your home, leaving no stone unturned in our quest to detect any existing or potential termite activity.
Here's what you can expect during our termite inspection process:
A thorough inspection of your property's interiors, including all rooms, basements, and attics, focusing on areas with wooden structures.
An examination of outdoor areas, such as wooden decks, tree stumps, and fences, which are often attractive to termites.
An assessment of your property's foundation and crawl spaces for any signs of mud tubes or wood damage—classic indicators of termite infestation.
A detailed report outlining our findings and recommendations for termite treatment if necessary.
Trusted Termiticide Treatment in Paradise Valley
To tackle existing termite infestations, we employ potent termiticides such as Termidor®. These specially formulated products are inherently appealing to termites, enticing them to ingest the Fipronil chemical embedded in the product.
As termites interact with each other within their colonies, they inadvertently spread the chemical, leading to the demise of affected members, including the queen. Although this "transfer effect" can take up to three months to fully manifest, the success rate of accurately applied treatments is 100%. Our team is proficient and certified in utilizing these high-grade Termiticides.
For ongoing protection against subterranean termites, we utilize Fuse treatments fortified with Fipronil. Fuse is administered by infusing the soil encircling your home with a liquid solution. This procedure allows the solution to permeate the soil, impacting any nearby colonies, and establishing a robust defensive barrier to prevent termites from infiltrating your home. This method offers enduring protection against subterranean termites, potentially lasting for eight years or more.
Call for Professional Team Today!
Choose Arizona Termite Specialists for state-of-the-art termite control in Paradise Valley. We stand out from the crowd with our specialized treatments tailored to meet the unique needs of each property. Our experts swiftly respond to service requests, offering same-day appointments to ensure your home remains protected against the destructive impact of termites. Our unparalleled expertise, commitment to customer satisfaction, and prompt service make us the ideal choice for safeguarding your home against termite infestations.
Don't let termites take over your home. Contact us today at (602) 900-9799 for professional termite control in Paradise Valley.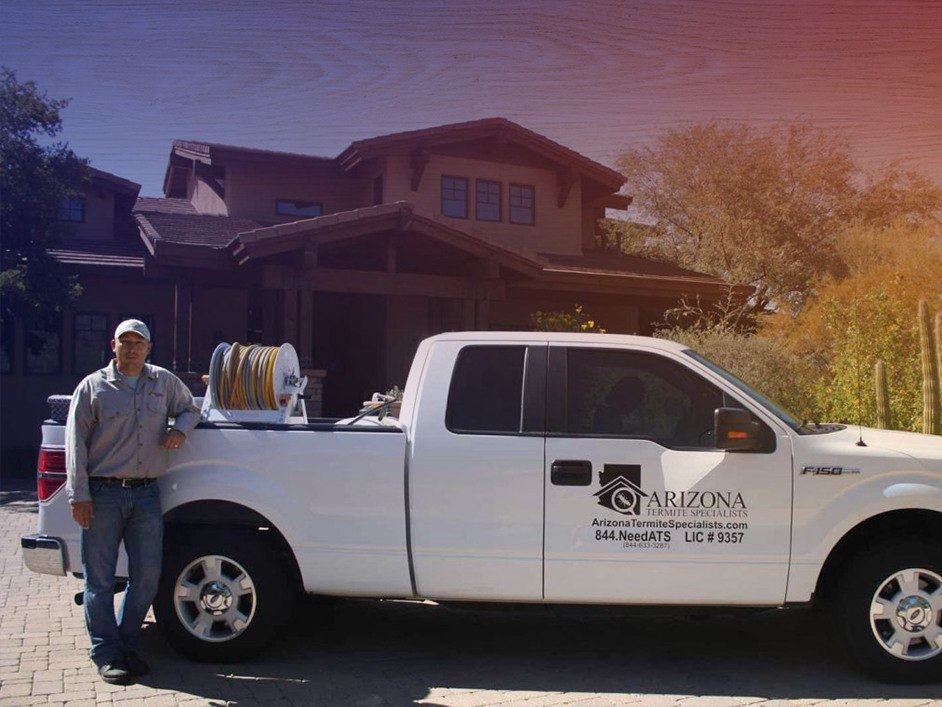 Our Phoenix termite techs are proud to provide expert termite control and inspections throughout Scottsdale, Glendale, Cave Creek, Gilbert, Mesa, and Peoria. Call (602) 900-9799 to schedule a free estimate or a service.
Termite Control Is All We Do

We are trained, licensed & insured extermination professionals who deal exclusively with termite control and inspection.

Over 20 Years of Experience

For over two decades, our techs have helped countless Phoenix area residents rid their homes of pesky termites.

Advanced Treatment Solutions

Unlike general pest control companies, we use the most effective treatment solutions on the market to eliminate your termites problems for good.