Termites Are All We Do We eliminate termites the first time around
Termite Control in Mesa
Expert Termite Treatment Services in Mesa & the Surrounding AReas
We understand that termites can be a stressful and worrisome problem for homeowners. That's why we specialize in providing fast and effective termite treatment services in the Mesa, AZ area. Our team of experienced professionals is dedicated to providing the highest quality of service and workmanship.
At Arizona Termite Specialists, we offer a variety of termite treatment options, including traditional liquid treatments, baiting systems, and fumigation. We use the latest, most advanced techniques and products to ensure the best possible results. Our team is highly knowledgeable and trained in the latest termite control techniques. We understand that termites can be a costly problem, so we strive to provide our services at competitive prices. We also offer a free inspection to ensure that we can accurately diagnose and treat your termite problem.
Comprehensive Termite Control Services
At Arizona Termite Specialists, we provide a range of top-tier termite control services designed to meet the unique needs of our Mesa clients:
Thorough Termite Inspections: Our skilled technicians conduct meticulous termite inspections to identify current infestations or potential risks. Utilizing cutting-edge tools and methods, we pinpoint termite presence, even in hard-to-reach areas.
Customized Treatment Plans: Following a comprehensive assessment, we create personalized treatment plans tailored to eliminate termites effectively while prioritizing the safety of your family, pets, and the environment.
Advanced Termite Prevention: Prevention is the cornerstone of long-term termite control. Our experts collaborate with you to implement proactive measures that reduce the risk of future infestations, including soil treatments and barrier installations.
Localized Treatments: For contained infestations, we apply targeted treatments to minimize disruption to your property and surroundings.
Contact Arizona Termite Specialists to Get Started Today!
In Mesa, AZ, where termite activity is a year-round concern, Arizona Termite Specialists stands as a beacon of excellence in termite control. Our commitment to effective, environmentally friendly solutions, combined with our experienced team, sets us apart in the industry. Don't let termites compromise your property's integrity—reach out to Arizona Termite Specialists today for tailored termite control services that provide lasting peace of mind.
---
If you're looking for a reliable and experienced termite treatment service in Mesa, AZ, look no further than Arizona Termite Specialists. Contact us today at (602) 900-9799 to schedule an appointment and get rid of those pesky termites!
Benefits of Using Bait Systems for Termite Control
Termite infestations can be a homeowner's nightmare, but innovative solutions like bait systems have revolutionized termite control. These systems present a strategic and eco-friendly approach that effectively targets and eliminates termite colonies.
Advantages of incorporating bait systems into your termite control strategy:
Non-Invasive Solution: Unlike traditional termite treatments that may require extensive drilling or trenching, bait systems are minimally invasive. This means no disruptive or unsightly construction work around your property.
Environmentally Friendly Approach: Bait systems focus on targeted elimination, minimizing the need for widespread pesticide application. This approach significantly reduces the overall use of chemicals, making it a more environmentally conscious choice.
Colony-Wide Eradication: Termites within a colony interact and share food, including the bait. As they ingest and pass on the bait to their fellow colony members, the entire population is affected. This makes bait systems an efficient method for colony-wide eradication.
Preventive Monitoring: Bait systems offer ongoing protection by serving as monitoring tools. Even after the colony has been eliminated, bait stations can continue to be monitored for termite activity, ensuring that any new infestations are detected early.
Opting for bait systems as part of your termite control strategy presents a holistic and forward-thinking approach. The non-invasive, eco-friendly, and colony-wide benefits they offer make them an attractive choice for homeowners seeking effective and responsible termite management. By leveraging the power of bait systems, you're not only tackling existing infestations but also proactively preventing future termite threats.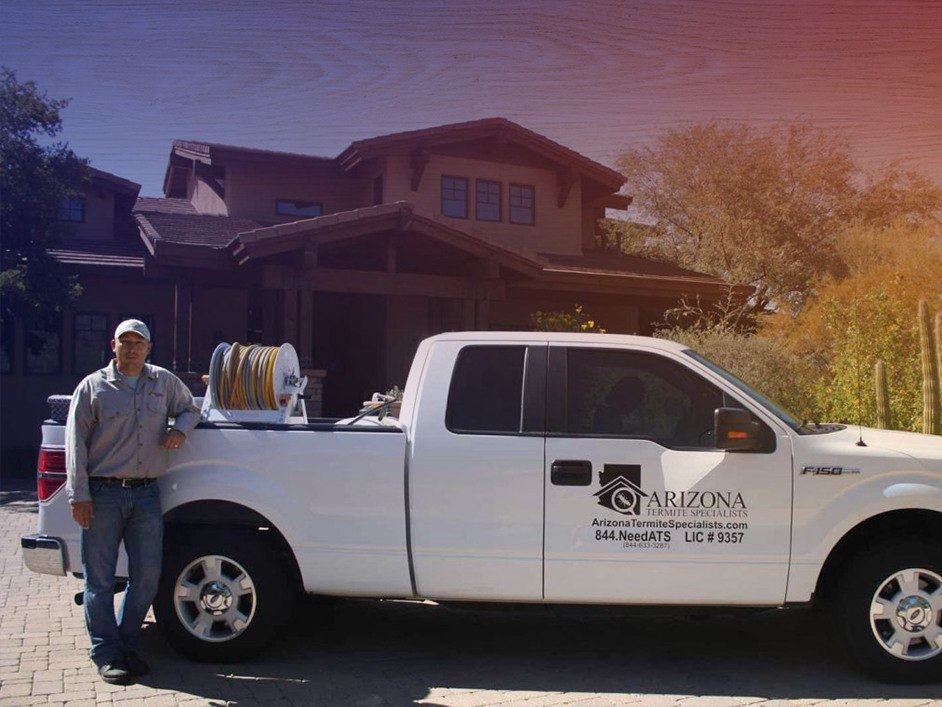 Our Phoenix termite techs are proud to provide expert termite control and inspections throughout Scottsdale, Glendale, Cave Creek, Gilbert, Mesa, and Peoria. Call (602) 900-9799 to schedule a free estimate or a service.
Termite Control Is All We Do

We are trained, licensed & insured extermination professionals who deal exclusively with termite control and inspection.

Over 20 Years of Experience

For over two decades, our techs have helped countless Phoenix area residents rid their homes of pesky termites.

Advanced Treatment Solutions

Unlike general pest control companies, we use the most effective treatment solutions on the market to eliminate your termites problems for good.