Termites Are All We Do We eliminate termites the first time around
Termite Treatment in Chandler
Keeping Your Home Pest Free for Over 20 Years
At Arizona Termite Specialists, we have been providing quality termite treatment services to the residents of Chandler and the surrounding areas for over 30 years. We are dedicated to providing superior customer service and quality workmanship. Our licensed technicians use only the latest technology and products to provide you with effective termite control services.
---
Call us at (602) 900-9799 or contact us online for professional termite control services in Chandler today.
---
Signs of Termites in Your Home
Termites are destructive pests that can cause significant damage to your home if left unchecked. Recognizing the signs of a termite infestation early is crucial for prompt treatment. Here are some common signs of termites in your home:
Mud Tubes: Pencil-sized mud tunnels on walls or foundations.
Wood Damage: Hollow or crumbly wood when tapped.
Discarded Wings: Wings shed by swarming termites.
Termite Droppings: Small wood-colored pellets or sawdust.
Sagging/Warped Floors: Floors that sag or warp.
Bubbling/Peeling Paint: Paint damage due to moisture buildup.
Tight-Fitting Doors/Windows: Difficulty opening/closing.
Visible Termites: Small pale workers or dark-headed soldiers.
Noises in Walls: Clicking or rustling sounds.
Swarmers Inside: Reproductive termites attracted to light.
If you suspect termites, consult a pest control professional for inspection and treatment. Early action is crucial to prevent structural damage.
How to Get Rid of Termites
Getting rid of termites can be a challenging task, as they are persistent and destructive pests. Depending on the severity of the infestation, you may need to consider professional pest control services. Here are steps you can take to address a termite problem:
Identify Termite Type: Determine the termite species.
Property Inspection: Assess the infestation's extent.
Reduce Moisture: Fix leaks and drainage issues.
Remove Infested Wood: Replace damaged wood.
Termite Treatment Options:

Baits (for subterranean termites)

Liquid Termiticides (perimeter barrier)

Fumigation (for drywood termites)

Foam Termiticides (localized treatment)

Preventive Measures: Regular inspections, barriers, coatings.
Professional Consultation: Seek expert advice.
Regular Inspections: Continuously monitor for termites.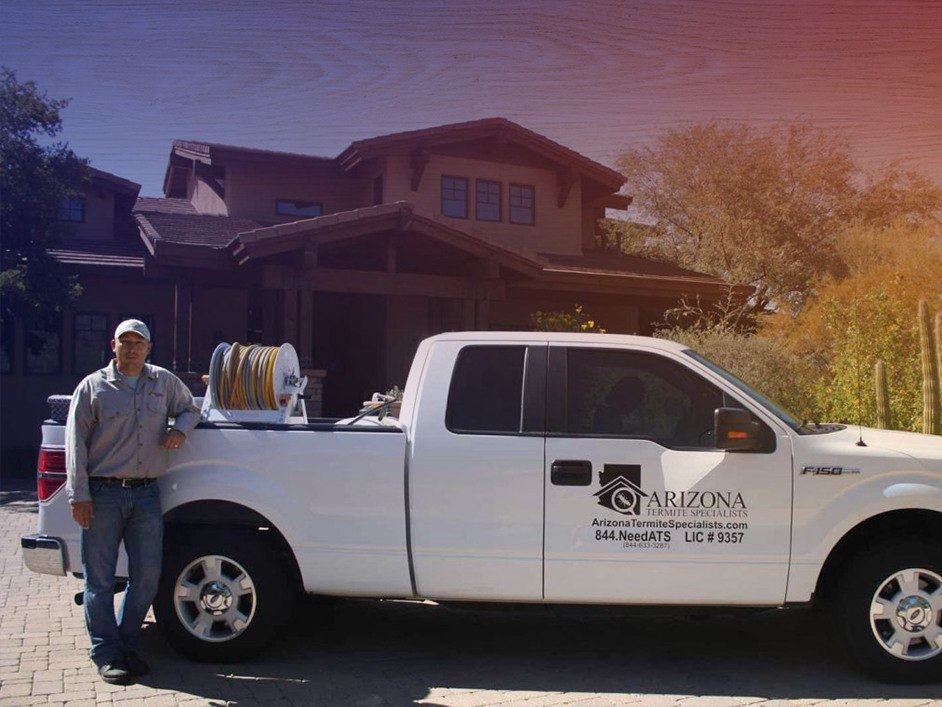 Our Phoenix termite techs are proud to provide expert termite control and inspections throughout Scottsdale, Glendale, Cave Creek, Gilbert, Mesa, and Peoria. Call (602) 900-9799 to schedule a free estimate or a service.
Termite Control Is All We Do

We are trained, licensed & insured extermination professionals who deal exclusively with termite control and inspection.

Over 20 Years of Experience

For over two decades, our techs have helped countless Phoenix area residents rid their homes of pesky termites.

Advanced Treatment Solutions

Unlike general pest control companies, we use the most effective treatment solutions on the market to eliminate your termites problems for good.