Termites are a major nuisance here in Arizona. Arizona is home to both subterranean termite and drywood termite species, which puts residences and buildings at an even greater risk of an infiltration. Now, these termite species consume the same food type (which could be the wood that forms the infrastructure of your home), but these termites live in different habitats, and should be exterminated accordingly. So let's talk about the different available treatments for subterranean and drywood termites.
Chemical Treatments for Subterranean Termites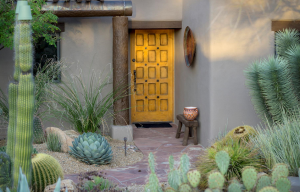 Subterranean termite infiltrations can be mitigated by sealing the home while treating the soil around a home. Subterranean termites live, as you might guess, beneath the surface of the earth. These termites build a colony below ground. They can also build mud tunnels that allow them to travel to sources of food and water. Since these termites can't live long outside of their tunnels, a swarm can be treated at their source. It's common practice to treat subterranean termites by trenching around a home, while treating the soil near the foundation of that home. This forms a barrier which kills subterranean termites. In certain cases, it may be necessary to apply a chemical treatment underneath your patio or driveway via the expansion joints between the concrete slabs of your patio or driveway.
As Arizona Termite Specialists, we use only the best termiticide (termite pesticide) available on the market: Termidor® HE. Termidor HE can be applied around a home to protect the home, while killing off existing termite populations. Termidor HE is a unique termite solution, since it doesn't repel termites. Instead, termites that come into contact with Termidor HE unknowingly carry the chemical to other termites. Termidor is then transferred to termites throughout the colony, and the chemical eventually kills the whole infestation.
Chemical Treatments for Drywood Termites
Unlike subterranean termites, drywood termites can survive without having access to soil. These termites can infiltrate a home, and thrive off of its wood structure. However, drywood termites may still be treated with Termidor. Your exterminator will inject Termidor throughout your home's structure, or just in areas nearest to an infestation. Termites then come into contact with the termiticide, and transport the chemical treatment back to the rest of the colony.
Fumigation
Fumigation is a worst-case scenario option that may be necessary for severe drywood termite infestations. Take note, we do not provide termite fumigation treatments here at Arizona Termite Specialist. Fumigation is an invasive treatment, which will require that you and your family leave your house for a few days (while the home is tented, fumigated, and allowed to air out). You'll also have to be sure to take your pets, plants, cosmetics, and food with you to ensure that the fumigation doesn't cause any harm. In general, it's best to treat termites with other available options, before resorting to fumigation, since they are less costly, less invasive, and provide long-lasting results.

Arizona Termite Specialists Treatments
If you're uncertain which treatment is best for you, call on us for a termite inspection. We'll take a look at your home or building, identify the type of termite on site, assess the severity of an infestation, determine the source and location of the colony, and of course, we'll inform you of the best solution for your particular situation. Unlike other pest control companies out there, we specialize in providing exclusively termite inspection and treatment solutions. Why? Well, termites are simply different from other pests out there. They require more specialized chemical solutions to kill, and they're unique in that they're likely to swarm if the colony is disturbed (which could actually compound the problem). For the right, long-lasting solution, count on Arizona Termite Specialists. Take a look at our full list of termite inspection and control services. We provider termite treatment services for folks throughout Phoenix, Scottsdale, Cave Creek, Gilbert, Mesa, and Peoria. Give us a call to get started today!
The post Chemical Treatments vs. Fumigation appeared first on Arizona Termite Specialists.