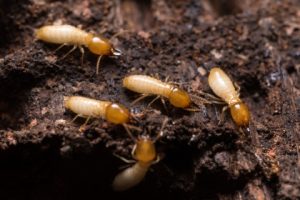 Termites are prevalent here in Arizona, with two major termite species — subterranean and drywood termites — that can devour wood in your home, damaging its structure. Unfortunately, it can be difficult to fully protect a home against termites (especially drywood termites). Fortunately, you can combat termite infestations with consistent inspections that could save you from this costly, unexpected problem. And, as a homeowner, you can arm yourself with knowledge of the most common places for a termite infestation to occur, so you can take measures to mitigate the odds of attracting termites. Today, we're going to expand on the most common sites for termites to colonize, signs of a termite infestation, and what you can do to help keep termites from calling your home their own.
As always, you can count on Arizona Termite Specialists should you need an inspection or if you suspect that termites have already infiltrated your property — we provide termite inspection and control services throughout Phoenix, Scottsdale, Cave Creek, Gilbert, Mesa, and Peoria. Call us today to protect your home! Now, let's dive in, and uncover some of these tiny nuisances' favorite habitats.
The post The Most Common Termite Colony Locations in Your Home appeared first on Arizona Termite Specialists.